– Studio condition –
This studio is the small scale that can contain only three people at a time, but all the necessary things are completely equipped compactly functionally.
This studio which carried out hygiene management of the perfection thoroughly in a working booth (fixed private room)considered the privacy protection of the woman.
This studio be divided in two zone,Working Booth is <Hygiene zone>, waiting zone is the <community>.
Only the booth is prohibition without shoes,please change to predetermined slippers.
---
<Hygiene zone booth>

I open a new needle and tubes enclosed in a sterilization pack by all means every each customer, each time after the arrival to the customer in the booth and use it
Therefore I ask you to come over concerning work preparations within ten minutes before the reservation time
At this studio for each customer and each session a new pigment,needle and tubes from a sterilized medical pouch is used.
Needle bars enclosure processed sterilization on the condition in a sterilization pack after sterilization processing, drying again partly by Autoclave by running water detergent washing with the exclusive washing stand, warm water chemical sterilization washing in Ultrasonic( ultrasonic washer), Autoclave( high pressure steam sterilizer -132 degrees Celsius 2kg/1?) for 30 minutes
The main body of Machine does safekeeping in X-Raybox.
Please, cooperate with the keep of the hygiene level that there is a case limiting part of action of the customer to prevent indirect contact in our studio
<Waiting zone-public>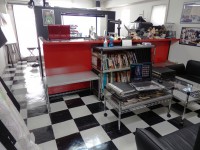 <Records of Convention>